Dangerous melting dashboards that turn into a pile of sticky, reflective goo and reduce the visibilty of drivers as they hurl down the freeway? No, no – this isn't the plot of the next Ghostbusters movie, it's the reality that a number of Toyota and Lexus owners face on their daily commutes.
One of the automotive world's worst science projects is coming to an end. Toyota dashboards have long been known to melt under the heat of the sun. The melted dashes warp and extrude a strange, goo-like substance that is oddly shiny and sticky; like something you'd find in a toddler's coat pocket.
Owners were upset at how the melted dashes hurt their car's value and were concerned over increased glare becoming a safety issue. This eventually led to a couple of lawsuits which hit their mark as Toyota recently announced they will extend the warranty coverage on dashboards in 3.5 million vehicles.
You might say Toyota wanted to avoid a sticky situation. Or that they felt the heat of pending litigation. OK, I'll stop now.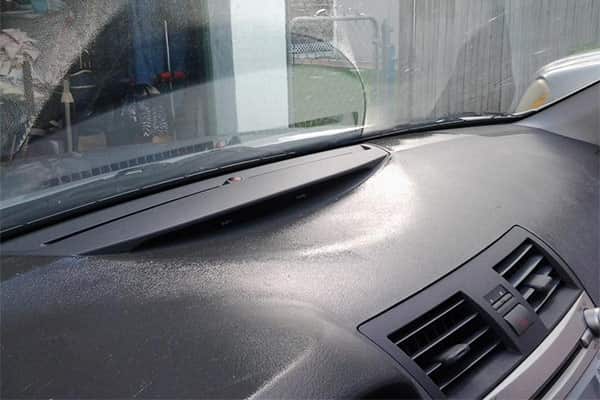 Warranty Extension Details
Because simplicity is apparently overrated, Toyota has announced there will be multiple phases and forms of coverage:
The first phase will focus on covering the costs of those who have already paid for dashboard repairs out-of-pocket. Once phase one is complete (and Toyota has collected enough parts) they will start replacing any other deformed dashboards. You can read more about their plans over on CarComplaints.com</a>.
Toyota will also have a primary and secondary coverages based on the date, mileage of the car, etc. Bottom line: any owner that can show their dash has been damaged by heat or humidity will be eligible for the extension until May 31, 2017. It gets a little more complicated after that and once again you can read more about that here.
Eligible vehicles
| Make | Model | Years |
| --- | --- | --- |
| Lexus | ES 350 | 2007–2008 |
| | GX 470 | 2003 –2008 |
| | IS 250 | 2006–2008 |
| | IS 350 | 2006–2008 |
| | LS 460 | 2007 |
| | RX 330 | 2004–2006 |
| | RX 350 | 2007–2009 |
| | RX 400h | 2005–2008 |
| Toyota | 4Runner | 2003–2005 |
| | Avalon | 2005–2010 |
| | Camry | 2007–2011 |
| | Camry Hybrid | 2007–2011 |
| | Sienna | 2004–2010 |
| | Solara | 2004–2008 |
Lawsuit Aims to Place Blame on Toyota
A lawsuit says Toyota designed, manufactured and subsequently ignored dangerous Velveeta-like dashboards in the 2006-2008 Lexus ES, IS, and the 2007-2009 Toyota Camry.
The lead plaintiff, Melissa Graham, says the melting conditions create a glossy film on the dashboard that make it difficult to see when it's sunny out. She should just move to northern VT, my house has been under a never-moving wall of clouds for a month now. But I digress.
The lawsuit points to a TSB (that's technical service bulletin for people who never took Manufacturer Acronyms 101) that Toyota issued to dealers in 2011 that says their cars "may exhibit sticky interior panels that have a shiny / degraded appearance" and that revised interior panels "have been developed to address this condition." If you read between the lines of the TSB I'm pretty sure it says: 2006-2009 owners are just SOL. That's another acronym that you don't need to take "Manufacturer Acronyms 101" to understand.
Now a judge needs to decide if Toyota deliberately concealed the defective dashboards and who should pickup the repair bill. The judge should also look into if Velveeta dashboards are a real possibility, because that would be awesome. Hey, if I'm going to have an overly shiny dashboard it might as well be some form of processed cheese product that I can dip a nacho chip into.